IRATA Safety Notice: Dangerous Knot - SCAFFOLD / BARREL KNOT - DANGEROUS IF INCORRECTLY TIED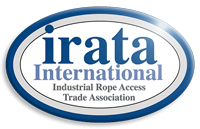 IRATA Safety Notice- keeping our industry safe
Two cases have been noted in IRATA assessments where a Barrel knot also known as a Scaffold 
knot has been incorrectly tied around a karabiner to terminate a cow's tail. If incorrectly tied, it is 
dangerous because it will slip undone if loaded and especially in a pre-tied knot it is very difficult 
to tell that it is not a standard Barrel / Scaffold knot by just looking at it. 
 
The Lyon Equipment report (2001)* for HSE noted that the Barrel knot was the best knot to tie in the 
end of a cow's tail for energy absorption. 
PLEASE FOLLOW THE LINK TO READ THIS NOTICE IN FULL, AND SEE SUPPORTING PICTURES. IT COULD SAVE A LIFE !
Please reload